Contributors to Issue VIII

---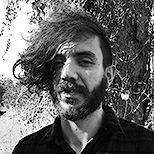 Kaveh Akbar
Kaveh Akbar founded and edits Divedapper. His poems are forthcoming in American Poetry Review, Iowa Review, Poetry Northwest, Narrative, The Los Angeles Review, Pleiades, and elsewhere.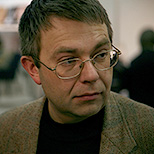 Maxim Amelin
Poet, critic, editor, and translator, Maxim Amelin is among the last generation of Russian poets to grow up in the Soviet Union. The recipient of numerous national awards, including the Moscow Reckoning Award, the Anti-Booker, the Novyi Mir Prize, and the Bunin Prize, his work has been translated into over a dozen languages. In 2013 Amelin won the prestigious Solzhenitsyn Prize for his contributions to Russian poetry. The author of three books of poetry, including Cold Odes (Холодные оды, 1996), Dubia (1999), and The Horse of the Gorgon (Конь Горгоны, 2003), as well as a collection of prose and poems, Bent Speech (Гнутая речь, 2011), he is also an accomplished translator of Pindar, Catullus, Homer, and other ancient and contemporary poets. He currently lives in Moscow. He is a member of the Russian PEN-Club and editor-in-chief at OGI, a leading publisher of contemporary literature.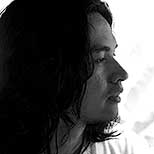 Mesándel Virtusio Arguelles
Mesándel Virtusio Arguelles' 12 books in Filipino include, among others: Parang (High Chair, 2008), Alingaw (High Chair, 2010), Alinsunurang Awit (University of Santo Tomas Publishing House, 2010), Antares (Aklat Kurimaw, 2010), Mal (High Chair, 2011), Mga Tala at Panaginip (High Chair, 2012), Guwang (High Chair, 2013), Pilas ng Papel: Mga Sanaysay sa Tula (De La Salle University Publishing House, 2013), and Pesoa (Balangay Books, 2014). His volume of selected poems, Anima, will soon come out from the Ateneo de Naga University Press. A recipient of multiple national awards and fellowships in the Philippines, Arguelles is co-editor of the journal hal., works as a book editor, and teaches literature and creative writing at the De La Salle University in Manila.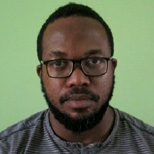 Zino Asalor
Zino Asalor is a writer of fiction and poetry, currently based in Port-Harcourt, Nigeria. His work has been published in several literary magazines including Sentinel Nigeria, New Literati, Saraba Mag and The Missing Slate. He is working on his first novel.
Ivonne Gordon Carrera
Ivonne Gordon Carrera was born in Quito, Ecuador. She is a poet, literary critic, and literary translator. She has a Ph.D. from the University of California, Irvine in Latin American Literature. She is a Professor of Latin American Literature at the University of Redlands. She has published five books and has two more completed. The most recent one, Meditar de Sirenas (Sweden 2013), was launched in Medellín, Colombia. A second edition was published in Chile (June, 2014) Other books include Barro blasfemo (Spain, 2010); Manzanilla del insomnio (Ecuador, 2003). She also received an award in Ecuador, the Jorge Carrera Andrade award, for Colibríes en el exilio (Ecuador, 1997). This book received the distinction of being finalist in the International Extraordinary Award of Casa de las Américas. She has been invited to be Keynote Speaker to several universities. Perhaps the most distinguished invitation has been to read on several occasions at The Library of Congress in Washington, DC. Her work has been included in several poetry anthologies published in the United States, Latin America, and Europe, as well as Crab Orchard Review, Rattapalax, The Drunkenboat (as featured poet), Letras del Ecuador, Poetas sin sofá, Unomas Uno, and many others. Her work has been translated to English, Polish, and Flemish.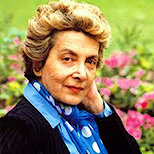 Andrée Chedid
Andrée Chedid was born in 1920 Cairo and settled in Paris after World War II. She published over 20 collections of poetry, along with fiction, plays, and essays, before her death in 2011. Twice awarded the Prix Goncourt, Chedid was appointed a Grand Officier de la Légion d'honneur in 2009. The poem here is from the sequence « Les vivants » [The Living], which can be found in its entirety at Jacket2. Grateful acknowledgement is made to Jacket2 and also to Flammarion, publisher of Textes pour un poème: 1949-1970, where « Les vivants » appears on pages 129–136.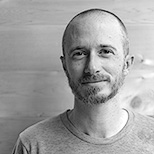 Adam Clay
Adam Clay's most recent book is Stranger (Milkweed Editions, 2016). His poems have appeared in Ploughshares, Crab Orchard Review, Boston Review, Iowa Review, The Pinch, and elsewhere. A co-editor of TYPO Magazine, he serves as a Book Review Editor for Kenyon Review, and teaches at the University of Illinois-Springfield.
Katie Cortese
Katie Cortese is the author of Girl Power and Other Short-Short Stories (ELJ Publications, 2015). Her stories and essays have appeared or are forthcoming in such journals as Blackbird, Gulf Coast, Wigleaf, The Baltimore Review, and elsewhere, including the Rose Metal Press anthology, Family Resemblance: An Anthology and Exploration of 8 Hybrid Literary Genres. She lives in Lubbock, TX, where she teaches in the creative writing program at Texas Tech University and serves as the fiction editor for Iron Horse Literary Review.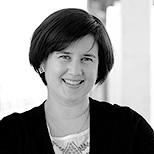 Laura Da'
Laura Da' is a poet and public school teacher. A lifetime resident of the Pacific Northwest, Da' studied creative writing at the University of Washington and The Institute of American Indian Arts. Her first chapbook, The Tecumseh Motel, was published in Effigies II. The University of Arizona Press recently published her first full-length manuscript, Tributaries.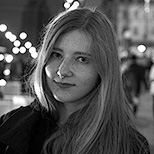 Xenia Emelyanova
Russian poet Xenia Emelyanova published her first poems in the summer of 2014 in the journal Iunost', for which she won the journal's Anna Akhmatova Prize. Also in 2014, her poems were longlisted for the PEN/International New Voices Award. In 2015 she won the Russian Rhymes award. Her first publication in English was "Spring rain beats on broken branches," for which translator Katherine E. Young won third prize in the 2014 Joseph Brodsky-Stephen Spender competition. Emelyanova lives in Moscow.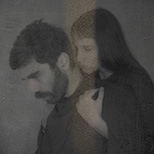 Father Murphy
Photo: Sara Xiayu
Father Murphy is the sound of the Catholic sense of Guilt. A downward spiral aiming at the bottom of the hollow, and then digging even deeper. Father Murphy, with five albums and a plethora of EPs and limited releases, over the years became one of the most mysterious and enigmatic musical entities coming out of Italy, part of that community christened "Italian Occult Psychedelia" by Simon Reynolds. They are well known for their intense live shows, something between a rite and an artistic performance. Having furiously performed all over Europe, toured North America with Deerhoof, Dirty Beaches, Iceage and Xiu Xiu, received praise from the Archdruid Julian Cope, Michael Gira, and Geoff Barrow (among others), the group just finished their latest effort, "Trilogy of the Cross", consisting of albums Calvary (out January 2015 on the British label Blue Tapes), Croce (March 2015 on the American label The Flenser), and Lamentations (released in November 2015 by the Italian label Backwards).
Anne O. Fisher
Anne O. Fisher has translated novels and a travelogue by the Soviet writing duo Ilf and Petrov. Her translations of Andrey Platonov and Margarita Meklina have appeared in Cabinet Magazine and in the 2015 Norton anthology Flash Fiction International, while her translations of Ksenia Buksha are forthcoming in Cardinal Points and the St. Petersburg Review. With her husband, poet Derek Mong, she has co-translated the poetry of Maxim Amelin; their work has appeared or is forthcoming in Asymptote, the Brooklyn Rail, Two Lines, and elsewhere. In 2014 they published the first English-language interview with Amelin in Jacket2. Fisher is a recipient of translation grants from the NEH and NEA and lives in Portland, Oregon with her family.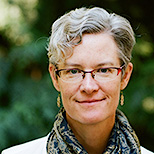 Allison Green
Allison Green is the author of a novel, Half-Moon Scar (St. Martin's), and a memoir, The Ghosts Who Travel with Me (Ooligan), for which "What to Pack?" is a kind of prequel. Her essays have appeared in publications such as The Gettysburg Review, Utne Reader, Full Grown People, The Common, Defunct, and Calyx. She keeps a blog at allisongreen.org.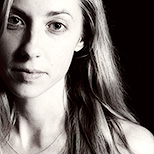 Chloe Honum
Chloe Honum is the author of The Tulip-Flame, selected by Tracy K. Smith for the 2013 Cleveland State University Poetry Center First Book Prize. The Tulip-Flame won Foreword Review's Book of the Year Award, the Eric Hoffer Book Award, and the Texas Institute of Letters Best First Book of Poetry Award, and was named a finalist for the 2015 PEN Center USA Literary Award. Chloe is the recipient of a Ruth Lilly Fellowship and a Pushcart Prize, and her poems have appeared in The Paris Review, Poetry, The Southern Review, and elsewhere. She was raised in Auckland, New Zealand.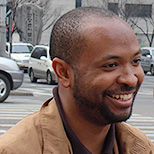 Gary Jackson
Born and raised in Topeka, Kansas, Gary Jackson is the author of the poetry collection Missing You, Metropolis, which received the 2009 Cave Canem Poetry Prize. His poems have appeared in Callaloo, Tin House, 32 Poems, Crab Orchard Review, and elsewhere. He is the recipient of both a Cave Canem and Bread Loaf fellowship, and an associate poetry editor at Crazyhorse. He currently teaches as an Assistant Professor at the College of Charleston in Charleston, SC, and at the low-residency MFA program at Murray State University in Murray, Kentucky.
James Jay
James Jay and his wife, the musician Aly Jay, own and operate the bar Uptown Pubhouse in Flagstaff, Arizona. James has taught poetry at Northern Arizona University and in the low-residency MFA program at the University of Nebraska. His recent poems and essays have appeared in Strange Machine, The Huffington Post, and Crab Creek Review. His poetry was selected for the New Poets of the American West anthology. He won the Viola Award in Literature in 2011, and his latest book of poems, The Journeymen, was nominated for a PEN Western States Award. His regular column, "Bartender Wisdom," has run in FlagLive for over six years. He has served as the Literary Executor for the Estate of Jim Simmerman since 2006. In that capacity, he runs the annual Simmerman Poetry Prize for Flagstaff-area high school students and is the co-editor for New and Selected Poems of Jim Simmerman (Gorsky Press, Fall 2016).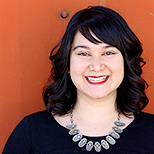 Janine Joseph
Janine Joseph is the author of Driving Without a License (Alice James Books, 2016), winner of the Kundiman Poetry Prize. Her poems and essays have appeared in Best American Experimental Writing 2015, The Kenyon Review Online, Hyphen, The Journal, Best New Poets 2009, Zócalo Public Square, VIDA: Women in Literary Arts, and elsewhere. Her commissioned work for the Houston Grand Opera/HGOco includes the librettos What Wings They Were: The Case of Emeline and From My Mother's Mother, and a song cycle, "On This Muddy Water": Voices from the Houston Ship Channel. She holds an MFA from New York University and a PhD from the University of Houston. Janine lives in Ogden, UT, where she is an Assistant Professor of English at Weber State University.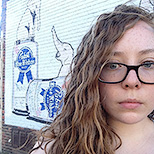 Rachel Kincaid
Rachel Kincaid is a Bostonian getting used to the Midwest. Her work has appeared in Forklift, Ohio, The Chariton Review, The Awl, and Catch & Release. Her favorite X-Files episode is "Detour."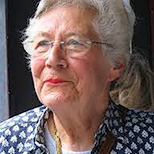 Anise Koltz
Anise Koltz is one of Luxembourg's major poets. Born in 1928, she has published over two dozen collections, seven over the last eight years. Her honors include the Prix Apollinaire, Prix Servais, and Prix de littérature francophone Jean Arp. Gallimard will publish a selected edition of Koltz's poetry this year, and the University of Strasbourg will host a colloquium devoted to her œuvre in November. The poems for Koltz's husband, René, are from her most recent collections, Galaxies intérieures (2013) and Un monde de pierres (2015). They appear here with grateful acknowledgment to Anise Koltz and Éditions Arfuyen, Paris.
Aviya Kushner
Photo: Danielle Aquiline
Aviya Kushner grew up in a Hebrew-speaking home in New York. She is the author of The Grammar of God: A Journey into the Words and Worlds of the Bible (Spiegel & Grau, 2015), a finalist for The National Jewish Book Award. She is an associate professor at Columbia College Chicago and a contributing editor at A Public Space, and her poems, essays, and stories appear nationally and internationally.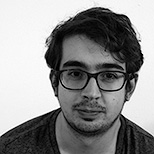 Sam Martone
Sam Martone is a writer. Find him at sammartone.com.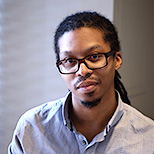 Nathan McClain
Nathan McClain is author of Scale (Four Way Books, 2017). His poems have recently appeared, or are forthcoming, in Ploughshares, Iron Horse Literary Review, New Haven Review, The Volta, and Southern Humanities Review. A recipient of scholarships from The Frost Place and the Bread Loaf Writers' Conference, Nathan is also a graduate of Warren Wilson's MFA Program for Writers and a Cave Canem fellow. He currently lives and works in Brooklyn.
Derek Mong
Derek Mong is the author of two collections from Saturnalia Books, Other Romes (2011) and The Identity Thief (forthcoming, 2018); the poetry editor at Mantis: A Journal of Poetry, Criticism, & Translation; and a blogger at KROnline. He recently completed a Ph.D. at Stanford University, writing on marriage in the lives and afterlives of Whitman and Dickinson. A former Axton Fellow at the University of Louisville and Halls Poetry Fellow at the University of Wisconsin, he lives in Portland, Oregon with his wife and son. He has received the Editors' Choice Prize from the Missouri Review and two Hopwood Awards. New poetry, criticism, and translations have appeared (or will soon appear) in the Kenyon Review, Two Lines, Boxcar Poetry Review, American Literary Review, the Brooklyn Rail, Michigan Quarterly Review, and the Gettysburg Review. He can be reached at derekmong.com.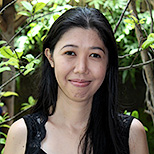 Kristine Ong Muslim
Kristine Ong Muslim is the author of several books of fiction and poetry: Age of Blight (Unnamed Press, 2016), Butterfly Dream (Snuggly Books, 2016), A Roomful of Machines (ELJ Publications, 2015), Grim Series (Popcorn Press, 2012), We Bury the Landscape (Queen's Ferry Press, 2012), as well as Black Arcadia and Lifeboat, which are poetry collections to be released by Philippine-based university presses. Widely published in magazines and anthologies, she grew up and continues to live in rural southern Philippines.
Paul Otremba
Paul Otremba is the author of two poetry collections, The Currency (Four Way Books, 2009) and Pax Americana (Four Way Books, 2015). His poems, reviews, and criticism have appeared in such places as New England Review, Kenyon Review, Witness, Literary Imagination, Southwest Review, The Houston Chronicle, The Washington Post, Poetry Daily, and American Poets in the 21st Century: The New Poetics. He is an assistant professor of creative writing at Rice University.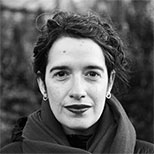 Maya Pindyck
Maya Pindyck is a poet and visual artist. She is the author of Emoticoncert (Four Way Books, forthcoming), Friend Among Stones (New Rivers Press), and a chapbook, Locket, Master (Poetry Society of America). She has received grants and fellowships in support of her projects from the Historic House Trust of New York City's Contemporary Art Partnerships Program, the Abortion Conversation Project, the Community of Writers at Squaw Valley, and the Vermont Studio Center. Currently a doctoral candidate at Columbia University's Teachers College, she holds an MFA from Sarah Lawrence College and lives in Brooklyn.
Cindy Rinne
Photo: Edwin Vasquez
Cindy Rinne creates art and writes in San Bernardino, CA. She co-authored with Michael Cooper Speaking Through Sediment (ELJ Publications). Cindy's book, Quiet Lantern, is forthcoming (Turning Point) and spider with wings is forthcoming (Jamii Publishing). Her poem "Mapping" was nominated for the Liakoura Award by Pirene's Fountain. Cindy is a founding member of PoetrIE, an Inland-Empire-based literary community. Cindy is an Editor for Tin Cannon by PoetrIE and for the Sand Canyon Review at Crafton Hills College in California. She is a translator. Her fiber art has appeared in Ghost Town Literary Magazine. Her poetry appeared or is forthcoming in Indiana Voice Journal, Young Ravens Literary Review, Rose Red Review, Eternal Haunted Summer, Cactus Heart Press, The Wayfarer, Dual Coast Magazine, Artemis Journal, Meat for Tea: The Valley Review, and others. See more of her work at fiberverse.com.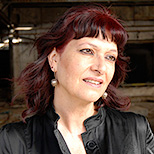 Yudit Shahar
Photo: Iris Nesher
Yudit Shahar grew up on the border of Sh'chunat HaTikvah, or "the neighborhood of hope," in Tel Aviv. She is the author of two collections of poems — This Is Me Speaking (2009) and A Mad Woman For Every Street (2013), and has won several literary prizes in Israel. The mother of two children, she works as a teacher and lives in Petach Tikvah, Israel.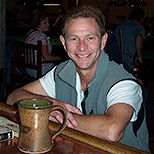 Jim Simmerman
Jim Simmerman is the author of five poetry collections, most recently American Children (BOA Editions, 2005), and the co-editor of Dog Music: Poetry about Dogs (St. Martin's, 1996). A recipient of fellowships from the Arizona Commission on the Arts, the Bread Loaf and Port Townsend Writers Conferences, the Provincetown Fine Arts Work Center, the Hawthornden Castle International Retreat for Writers, and the National Endowment for the Arts, he was a Regents' Professor of English at Northern Arizona University until his death in 2006. In the Fall of 2016, Gorsky Press will publish his posthumous New and Selected Poems.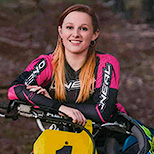 Brenna Vanderheyden
Brenna Vanderheyden is an eighteen-year-old aspiring writer raised in Flagstaff, AZ. She won first place in the Jim Simmerman poetry contest with her poem "I Am from Broken Light Switch Covers and Bruises." She also previously had a short story published in an online journal. Her main disciplines are poetry and fiction short stories, although she hopes to one day publish a novel.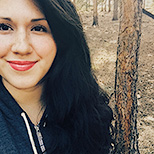 Vanessa Angelica Villarreal
Vanessa Angelica Villarreal was born on the Rio Grande in McAllen, Texas. Her work has appeared in Caketrain, DIAGRAM, The Poetry Foundation Harriet blog, The Feminist Wire, DREGINALD, The Western Humanities Review, NANO Fiction, The Colorado Review Online, and elsewhere. She is a CantoMundo Fellow, and her book, Beast Meridian, was a finalist at Nightboat, Futurepoem, Saturnalia, and Willow Books, and is forthcoming from Noemi Press in 2017. She came up in Houston, Texas.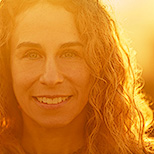 Marci Vogel
Photo: Peter Figen
Marci Vogel is the author of At the Border of Wilshire & Nobody, winner of the 2015 Howling Bird Press Poetry Prize. Her poetry, essays, and translations appear or are forthcoming in Plume, Matter Monthly, and Brooklyn Rail. A Provost's Fellow in Creative Writing and Literature at USC, Vogel was awarded a 2014 Willis Barnstone Translation Prize and currently serves as a guest commentator for the Jacket2 series, « A poetics of the étrangère ». Her translation of Koltz's 2013 collection, Galaxies intérieures (Interior Galaxies) has recently been completed. See her work at marcivogel.com.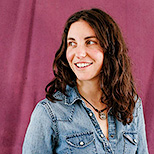 Melanie Webb
Melanie Webb is a photographer, farmer, and mother living in the hills of northern Vermont. Her work has been exhibited at Umbrella Arts Gallery in Manhattan and LAND Gallery in Brooklyn. She has been pursing photography since graduating from college and over the years has had photographs published in Plenty Magazine, Heeb Magazine, and Topic Magazine.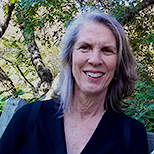 Tracy Winn
Tracy Winn is the author of the award-winning linked story collection Mrs. Somebody Somebody (Random House, 2010). Her recent work has appeared in the Harvard Review and Fifth Wednesday Journal, and is forthcoming on Audible. She is a Dewitt Wallace Fellow in Fiction.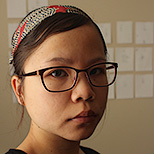 Khaty Xiong
Khaty Xiong is the author of two poetry chapbooks, Deer Hour (New Michigan Press, 2014) and Elegies (University of Montana, 2013). Xiong's work has been featured in The New York Times and Verse Daily. Her debut collection, Poor Anima (Apogee Press, 2015), is the first full-length collection of poetry published by a Hmong American woman in the United States. More of her work can be found at khatyxiong.com. Currently, she resides in Gahanna, OH.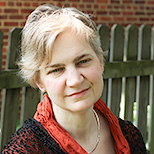 Katherine E. Young
Katherine E. Young is the author of Day of the Border Guards, 2014 Miller Williams Arkansas Poetry Prize finalist, and translator of Two Poems by Inna Kabysh. Her translations of Xenia Emelyanova and Inna Kabysh won third prize in the Joseph Brodsky-Stephen Spender competitions in 2014 and 2011, respectively; in 2016, Young's full-length collection of Inna Kabysh's poems was a finalist for the Cliff Becker Book Prize in Translation. Young was named a 2015 Hawthornden Fellow. See her work at katherine-young-poet.com.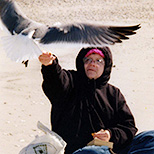 Martha Zweig
Martha Zweig's work has received Hopwood and Whiting awards. Her collections include Monkey Lightning (Tupelo, 2010), What Kind (Wesleyan, 2003), Vinegar Bone (Wesleyan, 1999), and Powers (Vermont Arts Council, 1976). Get Lost, her latest, won the 2014 Rousseau Prize and will be forthcoming from The National Poetry Review Press/Dream Horse Press. Zweig's poems have been nominated to Pushcart and Best of the Net, and are reprinted from time to time on Poetry Daily and Verse Daily. Her MFA is from Warren Wilson.