Waxwing Editors

---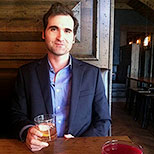 Co-Founder
Co-Editor & Poetry Editor
Justin Bigos
Justin Bigos is author of the poetry collection Mad River (Gold Wake, 2017), as well as the chapbook Twenty Thousand Pigeons (iO, 2014). His writing appears in publications including New England Review, The Seattle Review, Ploughshares, Indiana Review, McSweeney's Quarterly, The Best American Short Stories 2015, and The Rumpus. He recently joined the faculty in the MFA Program in Writing & Publishing at Vermont College of Fine Arts, and lives in central Vermont.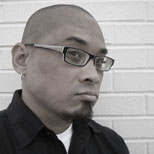 Co-Editor & Poetry Editor
W. Todd Kaneko
W. Todd Kaneko is the author of The Dead Wrestler Elegies (Curbside Splendor, 2014) and co-author with Amorak Huey of Poetry: A Writer's Guide and Anthology (Bloomsbury Academic 2018). His prose and poems have appeared in Bellingham Review, Los Angeles Review, Barrelhouse, The Normal School, The Collagist, SmokeLong Quarterly, The Rumpus, and many other journals and anthologies. A Kundiman fellow, he lives in Grand Rapids, Michigan, where he teaches at Grand Valley State University.
Co-Founder
Co-Editor
Erin Stalcup
Erin Stalcup is the author of the story collection, And Yet It Moves (Indiana University Press, 2016), and the novel Every Living Species (Gold Wake Press, 2017). Her fiction has appeared in The Kenyon Review, The Sun, Hinchas de Poesía, and elsewhere, and her creative nonfiction was listed as a Notable Essay in The Best American Essays 2016. Erin received her MFA from Warren Wilson College's Program for Writers, and served as the Joan Beebe Fellow at Warren Wilson. After teaching in community colleges, universities, and prisons in New York City, North Carolina, Texas, and Arizona, she recently joined the faculty in the MFA Program in Writing & Publishing at Vermont College of Fine Arts. Erin is the Editor of Hunger Mountain.
Fiction Editor
Rose Skelton
Photo: Antoine Tempé, 2017
Rose Skelton is currently working on Homescar, a collection of linked short stories set on an island in Scotland, where she is from. The collection-in-progress won the Larry Levis Fellowship for Fiction in 2018. Stories from this collection have been published in Waxwing and Four Way Review and in 2018 were nominated for a Pushcart Prize and Best of the Net. Rose has been a writing fellow at the Vermont Studio Center and at the Virginia Center for the Creative Arts, and has an MFA in fiction from Warren Wilson College. She now teaches creative writing and trains investigative journalists, but was previously a freelance journalist in west Africa, working for the International Herald Tribune, the Guardian, the Sunday Times, and others. In 2018 she gave up the Scottish island for a life in Philadelphia, where she writes, teaches and edits fiction full-time.
Nonfiction Editor
Silas Hansen
Silas Hansen's essays have appeared in The Normal School, Colorado Review, Slate, Redivider, Waccamaw, Best of the Net 2017, The Spirit of Disruption: Landmark Essays from the Normal School, and elsewhere. He lives in Muncie, Indiana and teaches creative writing and literary publishing at Ball State University.
Translations Editor
Rajiv Mohabir
Winner of 2015 AWP Intro Journal Award and the 2014 Intro Prize in Poetry by Four Way Books for his first full-length collection The Taxidermist's Cut (Spring 2016), recipient of a PEN/Heim Translation Fund Grant, and the 2015 Kundiman Prize for his manuscript The Cowherd's Son, Rajiv Mohabir received fellowships from Voices of Our Nation's Artist foundation, Kundiman, and the American Institute of Indian Studies language program. His poetry and translations are internationally published or forthcoming from journals such as Best American Poetry 2015, Quarterly West, Guernica, Prairie Schooner, Crab Orchard Review, Drunken Boat, Anti-, Great River Review, PANK, and Aufgabe. He received his MFA in Poetry and Translation from at Queens College, CUNY where he was Editor in Chief of the Ozone Park Literary Journal, and his PhD in English from the University of Hawai`i. He is currently an Assistant Professor of Poetry in the Department of English at Auburn University.
Assistant Translations Editor
Jasmine V. Bailey
Jasmine V. Bailey's first poetry collection, Alexandria, was published by Carnegie Mellon University Press in 2014 and won the Central New York Book Award. Her second collection, Disappeared, was published October, 2017 from Carnegie Mellon, and her chapbook, Sleep and What Precedes It, won the 2009 Longleaf Press Chapbook Prize. She has been an Olive B. O'Connor Fellow at Colgate University, a Fulbright Fellow in Argentina, and a fellow at the Vermont Studio Center. Her poems, essays, and translations have appeared in Michigan Quarterly Review, Carolina Quarterly, 32 Poems, Crab Orchard Review, Two Lines, InTranslation, and other journals. She is a PhD student at Texas Tech University.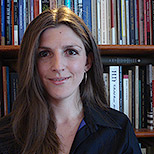 Contributing Editor
Candice Amich
Candice Amich is an Assistant Professor of English at Vanderbilt University, where she also teaches in the Latino and Latina Studies Program. She is the author of Precarious Forms: Performing Utopia in the Neoliberal Americas (forthcoming from Northwestern UP, 2020) and coeditor, with Elin Diamond and Denise Varney, of Performance, Feminism and Affect in Neoliberal Times (Palgrave, 2017).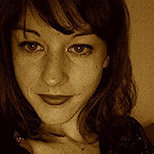 Contributing Editor
Corey Campbell
Corey Campbell's fiction has appeared in The Gettysburg Review, Colorado Review, Necessary Fiction, and the anthology Buffalo Cactus and other New Stories from the Southwest (University of New Mexico Press), among other publications. A graduate of the Warren Wilson MFA Program for Writers, she has received support from Inprint, the Sewanee Writers' Conference, the Community of Writers at Squaw Valley, and the National Academy of Television Arts and Sciences. She is a crisis volunteer at the Crisis Center of Johnson County.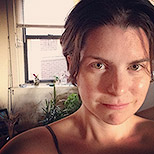 Contributing Editor
Anna Clark
Anna Clark is a journalist in Detroit and the author of The Poisoned City: Flint's Water and the American Urban Tragedy (Metropolitan, 2018). Her writing has appeared in Elle, the New York Times, Politico, the Columbia Journalism Review, Next City, and other publications. Anna also edited A Detroit Anthology, a Michigan Notable Book. She has been a Fulbright fellow in Nairobi, Kenya, and a Knight-Wallace fellow at the University of Michigan.
Contributing Editor
Toni Jensen
Toni Jensen is the author of a short story collection, From the Hilltop, and a memoir-in-essays about gun violence, Carry, forthcoming from Ballantine. Her stories and essays have been published in journals such as Orion, Catapult, and Ecotone. She teaches in the Programs in Creative Writing and Translation at the University of Arkansas and in the low residency MFA Program at the Institute of American Indian Arts.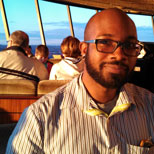 Contributing Editor
Dexter L. Booth
Dexter L. Booth is the author of Scratching the Ghost (Graywolf Press, 2013), which won the 2012 Cave Canem Poetry Prize selected by Major Jackson and was a Finalist for the 2014 New Mexico-Arizona Book Award in Poetry, as well as a finalist for the 2014 L.A. Leimert Park Book Fair's Jessie Redmon Fauset Award. Booth is included in the anthology The Best American Poetry 2015 (edited by Sherman Alexie) and his poems appear in Blackbird, The Southeast Review, Ostrich Review, Grist, Willow Springs, Bat City Review, Virginia Quarterly, and other publications. Booth is currently a PhD candidate and Provost Fellow at the University of Southern California.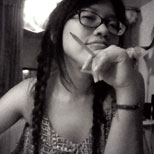 Contributing Editor
Grace Shuyi Liew
Grace Shuyi Liew grew up in Malaysia and currently resides in the US. She writes, teaches, takes photographs, and creates visual art. Her collection of poems, Careen, comes out in Spring 2019 with Noemi Press, and Lowlines Across a Pink Sky willl come out Spring of 2020 with Ahsahta Press. Her work is concerned with colonialism, queer theory, gender, the politics of desire, and the evolving and complicated longings of humanity. Find her at graceungrateful.com.
Contributing Editor
Jenny Johnson
Jenny Johnson is the author of In Full Velvet (Sarabande Books 2017). She is the recipient of a 2015 Whiting Award and a 2016–17 Hodder Fellowship in Poetry at Princeton University. Her poems have appeared in Los Angeles Review of Books Quarterly, New England Review, Troubling the Line: Trans and Genderqueer Poetry and Poetics, and elsewhere. She is an Assistant Professor of Creative Writing at West Virginia University, and she is on the faculty of the Rainier Writing Workshop, Pacific Lutheran University's low-residency MFA program.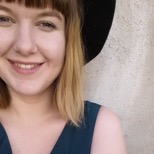 Grace Fenlason is a graduate of Northern Arizona University's journalism and English programs. She is the former Editor-in-Chief of the student-run Lumberjack newspaper. She is based in Tucson, Arizona and is beginning a law degree at the University of Arizona. Find her work and art at gracefenlason.com.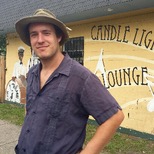 Nick Fox is a writer, tour guide, amateur musician, sporting enthusiast, and freshly minted travel writer. He has worked as a sailor, a burlesque emcee, a mule driver, and currently gives bicycle tours of his adopted home of New Orleans. He received his MFA in creative writing from Warren Wilson College and his bachelor's degree in journalism from Northern Arizona University. His work has appeared in Third Coast, Aethlon, The Worcester Review, and The Museum of Americana. He is currently listening to music and planning his next trip.
---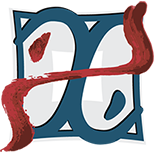 Site Design
Beautymark Design Studio
Waxwing was lovingly crafted under the art direction of Jason Robinson at Beautymark Design Studio in Flagstaff, AZ. The site was developed by Steve Tyree of Denver, CO, with invaluable assistance from Eddie Hillenbrand and Erin Stalcup. The waxwing feather illustration was produced in pen & ink (and graciously donated for our use) by Brian Kramer in West Orange, NJ. Thanks also to my lovely wife Aline: o poema eu amo traduzir mais do que todos.
Waxwing's prose and poetry are vivified by the clarity and elegance of the Adobe Caslon Pro family, based on the enduring typography of William Caslon (1693–1766).
Fiction Readers

---
Lauren Kalt, Jake Hadley, Lynette D'Amico, Abigail Cahill, Christina Ward Niven, Katherine Rooks, & Ashley McIlwain Nissler
Nonfiction Reader

---
Interns Spring 2019

---
Courtney Brooks, Morgan Cummins, & Lennie DeCerce
Alumni

---
Co-Founder
Editor & Poetry Editor, 2013–2015
Bojan Louis
Co-Founder
Translations Editor, 2013–2015
Sara Sams
Social Media Editor, 2013–2014
Whitney Packer
Social Media Editor, 2014–2015
Izzy Montoya
Contributing Editor, 2013–2015
Lauren Espinoza
Poetry Reader, 2014–2015
Rachel Andoga
Translations Editor, 2015
Sarah Valentine
Translations Editor, 2015-2018
Curtis Bauer
Interns Spring 2017
Lauren Kalt & Christine Denuit
Interns Fall 2017
Haley Davis, Orion Dressler, Emily Forney, Tanya Gauthier, Emma Haggerty, Madison Howard, Olivia Marchus, Lisabeth Nichols, & Kaitlin Olson
Interns Spring 2018
Damian Brown, Morgan Cummins, Madison Howard, Laura Jamieson, & Jordan Kloeckner
Interns Summer 2018
Morgan Cummins, Kathryn Donovan, Jake Hadley, Sam Hui, & Courtney Kinderman