Contributors to Issue II

---
Bruce Bond
Bruce Bond is the author of nine published books of poetry, most recently Choir of the Wells: A Tetralogy (Etruscan, 2013), The Visible (LSU, 2012), Peal (Etruscan, 2009), and Blind Rain (LSU, 2008). In addition he has two books forthcoming: The Other Sky (poems in collaboration with the painter Aron Wiesenfeld, intro by Stephen Dunn, Etruscan Press) and For the Lost Cathedral (LSU Press). Presently he is a Regents Professor of English at the University of North Texas and Poetry Editor for American Literary Review.
Christopher Burawa
Christopher Burawa is a poet and translator. His book, The Small Mystery of Lapses, was published by Cleveland State University Press in 2006. He was awarded a MacDowell Colony fellowship in 2003, a 2006 Witter Bynner Translation Residency at the Santa Fe Art Institute, a 2007 Literature Fellowship for Translation from the National Endowment for the Arts, a 2008 American-Scandinavian Foundation Creative Writing Fellowship, and most recently won the 2010 Joy Harjo Poetry Prize. His translations have appeared in numerous journals as well as the 2010, 2011, 2012, and 2014 Dalkey Archive Press' Best European Fiction anthologies. He is the Director of the Center of Excellence for the Creative Arts at Austin Peay State University in Clarksville, Tennessee.
Diana Marie Delgado
Diana Marie Delgado, poet and playwright, grew up in the San Gabriel Valley. A graduate of the poetry programs at the University of California-Riverside and Columbia University, she has served as Poet-in-Residence of Northern New Mexico College and was awarded a James D. Phelan Award in Poetry from the San Francisco Foundation. Her work has appeared in Indiana Review, North American Review, the Journal of Chicana/Latino Studies, and Ploughshares. She was the recipient of a Letras Latinas Residency Fellowship and attended the 2011 Monarch Theater Playwriting Workshops, where her short play, Desire Road, was given a staged reading at La MaMa La Galleria in NYC. Her poetry collection, Late-Night Talks with Men I Think I Trust, was a finalist for the 2012 Andrés Montoya Poetry Prize. She lives in New York City.
Norman Dubie
Norman Dubie is the author of twenty-three books, including most recently The Insomniac Liar of Topo (2007), Ordinary Mornings of a Coliseum (2004), and The Mercy Seat: Collected & New Poems 1967-2001 (2001), all from Copper Canyon Press, as well as a collection of aphorisms, The Clouds of Magellan (Recursos de Santa Fe, 1991) and his earlier Selected and New Poems (Norton, 1983), among many other notable collections. His writing has been translated into more than thirty languages, and he is the recipient of the Bess Hokin Award from the Modern Poetry Association, the PEN USA prize for best poetry collection in 2001, and fellowships from the Ingram Merrill Foundation, the John Simon Guggenheim Memorial Foundation, and the National Endowment for the Arts. Dubie lives in Tempe, Arizona, and is Regents' Professor of English at Arizona State University.
Carolina Ebeid
Carolina Ebeid is the 2012–2014 Stadler Fellow at Bucknell University. She holds a degree from the Michener Center for Writers, and is co-poetry editor at Better: Culture & Lit. Recent work appears in The Kenyon Review, Gulf Coast, Indiana Review, and Iron Horse Literary Review.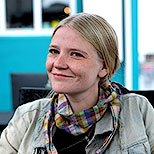 Kristín Eiríksdóttir
Kristín Eiríksdóttir is a poet, short story writer, novelist, and playwright. She was born in Reykjavik in 1981. Her poetry collections include Kjötbæinn (Meat Town) in 2004, Húðlitu Auðnina (The Tan Wasteland) in 2006, and Annarskonar Sælu (A Different Kind of Bliss) in 2008. Eiríksdóttir's collection of short stories, Doris Deyr (Doris Dies), was published in 2010. Her novel, Hvítfeld Fjölskyldusaga (Hvítfeld Family History), was published in 2012. She collaborated with Karí Ósk Grétudóttir on the play Karma For Birds, and Kristín Jóhannesdóttir produced the play for the Þjóðleikhús (National Theatre) in 2013. Eiríksdóttir's one-act play Skríddu (Crawl), produced by Kristin Eysteinsdóttir, premiered at the Borgarleikhús (City Theater) in 2013. Her novel Hvítfeld Family History was nominated for the Women's Literary Award in 2012. Karma For Birds was nominated for the Gríma Theater Prize in 2013 for Best Play.
Sylvain Gallais
Sylvain Gallais, a professor of International Economics and Political Science at F-Rabelais University (Tours, France) until 2003, is a professor of Economics and French at Arizona State University, where he has served as the Coordinator of the French Program in the International School of Languages and Cultures. In addition to his co-translations with Cynthia Hogue, Gallais has translated Alberto Alváro Rios' novella, The Iguana Killer, into French (Studio 2010). He lives in Phoenix, Arizona with his wife, the poet Cynthia Hogue.
Born and raised in Washington, DC, Landon Godfrey now lives in Black Mountain, NC, where she works as a writer and artist. "Luxury" is her first fiction publication. She is the author of the poetry collection Second-Skin Rhinestone-Spangled Nude Soufflé Chiffon Gown (Cider Press Review, 2011), and two chapbooks, In the Stone (RAPG-funded, 2013) and Spaceship (Somnambulist Tango Press, 2014). Her poems have appeared in Beloit Poetry Journal, The Southeast Review, Studium in Polish translation, Broadsided, Best New Poets 2008, Verse Daily, and other places. She is the recipient of a 2013 Regional Artist Project Grant and a 2011-2012 North Carolina Arts Council Artist Fellowship.
Phan Nhiên Hạo
Phan Nhiên Hạo, born in Vietnam in 1967, has lived in the U.S. since 1991. He is the author of two collections of poetry in Vietnamese, Thiên Đường Chuông Giấy (Paradise of Paper Bells, 1998) and Chế Tạo Thơ Ca 99-04 (Manufacturing Poetry 99-04, 2004), as well as Night, Fish, and Charlie Parker (Tupelo Press, 2005), a bilingual edition of his poems translated by Linh Dinh. His work has been published in the most prominent Vietnamese literary journals, such as Việt, Hợp Lưu, Văn, TC Thơ, Văn Học, and Văn Uyển, as well as in leading on-line magazines, such as Sydney-based Tiền Vệ and Berlin-based Talawas. His poems have been featured in the anthologies The Deluge: New Vietnamese Poetry (Chax Press, 2013), Language for a New Century: Contemporary Poetry from the Middle East, Asia, and Beyond (W.W. Norton, 2008),Of Vietnam Identities in Dialogue (Palgrave, 2001), Three Vietnamese Poets (Tinfish, 2001), and 26 Nhà Thơ Việt Nam Đương Đại / 26 Contemporary Vietnamese Poets (Tân Thư, 2002).
Cynthia Hogue
Cynthia Hogue has published twelve books, including Or Consequence and When the Water Came: Evacuees of Hurricane Katrina (interview-poems with photographs), both in 2010, and with Sylvain Gallais, the co-translated Fortino Sámano (The overflowing of the poem), by Virginie Lalucq and Jean-Luc Nancy (Omnidawn 2012), winner of the 2013 Harold Morton Landon Translation Award from the Academy of American Poets. Her forthcoming collection is entitled Revenance (Fall 2014). She is the Maxine and Jonathan Marshall Chair of Modern and Contemporary Poetry at Arizona State University.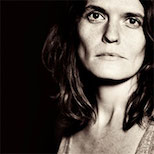 Rebecca Gayle Howell
Rebecca Gayle Howell's collection Render/An Apocalypse was selected by Nick Flynn for the 2012 Cleveland State University Poetry Center's First Book Prize. Howell's translation of Amal al-Jubouri's Hagar Before the Occupation/Hagar After the Occupation (Alice James Books) was picked by Library Journal as a 2011 best book of poetry and was shortlisted for the 2012 Best Translated Book Award (BTBA). Her awards include a poetry fellowship from the Fine Arts Work Center and a Jules Chametzky Prize in Literary Translation. Her homeplace is Lexington, Kentucky.
Dana Levin
Dana Levin's most recent book is Sky Burial. New poems and essays have appeared in The New York Times, Los Angeles Review of Books, Agni, Blackbird, and Poetry. A grateful recipient of fellowships and awards from the Rona Jaffe, Whiting, and Guggenheim Foundations, Levin teaches at Santa Fe University of Art and Design in Santa Fe, New Mexico.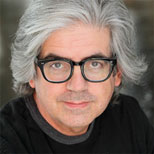 Michael Martone
Michael Martone was born in Fort Wayne, Indiana, on August 22, 1955, and he has often wondered, as the earth spun and, as it spun, circled the sun, just what date would be the date of his death. Every anniversary in which he partakes each year is freighted with this slight nagging question as he repeats and repeats and repeats and repeats the calendar of possibility. Is this the day? Or this one? Or this? He is reminded of such musings each day when in the daily paper advertisements have been taken in memory of some now-long-dead relative of someone else. Often, the ads are printed on the deceased's birthday, or if a father, on Father's Day, or a mother, on Mother's Day. But sometimes, the chatty message, directly addressed usually to the loved one ("We miss you Pop Pop") commemorates the day of the dead one's death. Martone wonders if there is a zodiac for the dying, an astrology for the dead as there is one that casts its influence, its will, over the newly minted. Martone likes the idea that one's course of life is plotted by the arrangement of the heavenly bodies at the time of birth. Or is it the time of conception? In any case, the notion that a particular concoction of electromagnetic forces monkeys with one's subatomic genetic grouting in order to predestine the randomness of one's life is intriguing to Martone. It is as if the physics of the universe are acting in concert or in conflict to narrate an interesting, eventful, illustrative, entertaining life that most often masquerades as a series of random accidents, happenstance, bad breaks, and stupid moves. Death, being for some (and for Martone devotedly hoped for) a mere transition in the ongoing incremental perturbation of life post-life, rearranges the dénouement into another a mirroring rising action on the other side. There, is some kind of dark matter at work, a negative mechanical deus ex machina, nudging this new plot of plot points there in the grave plot? He wonders. So, to play it safe, Martone celebrates each day as if it is his last, the end of his story, his deathday, on which he lights the candles on the cake and never blows them out, swallowing his breath, telling everyone the wish he didn't make.
Nick McRae
Nick McRae is the author of The Name Museum (C&R Press, 2014), which won the 2012 De Novo Prize, as well as the chapbook Mountain Redemption (Black Lawrence Press, 2013). He is the editor of the anthology Gathered: Contemporary Quaker Poets (Sundress Publications, 2013) and associate editor for 32 Poems. His poems appear in Cincinnati Review, Hayden's Ferry Review, The Southern Review, Third Coast, and elsewhere. Nick holds an MFA in creative writing from The Ohio State University and is currently a Robert B. Toulouse Doctoral Fellow in English at the University of North Texas.
Justin Messina
Justin Messina received a doctorate from the Juilliard School in 2009. He works with both acoustic and electronic means to create works that explore the expressive nature of sound. These works range from large orchestral compositions to electronically-created sound installations. He has collaborated with visual artists on audio-visual installations including Eastern Wall, created with optics artist Ethan Jackson, and Radio Hat, with Krista Caballero. His work in the world of popular electronic music led to a collaborative performance at the Bologna Opera with techno legends Carl Craig and Moritz von Oswald. His orchestral work Abandon, which premiered at Carnegie Hall by the American Composers Orchestra, is an homage to the first generation of techno artists from the empty streets of Detroit. Started in 2011, his current project Shortwave Artifacts is a series of works investigating the mysterious nature of radio. The works range from multi-channel sound installations to electro-acoustic works intended for the stage. The first full-length album of the series was completed in 2013.
Matthew Olzmann
Matthew Olzmann's first book of poems, Mezzanines, was selected for the 2011 Kundiman Prize and was published by Alice James Books. His writing has appeared or is forthcoming in New England Review; Kenyon Review; Poetry Northwest; Forklift, Ohio; and elsewhere. He's currently a Visiting Professor of Creative Writing in the undergraduate program at Warren Wilson College. (matthewolzmann.com)
Hai-Dang Phan
Hai-Dang Phan's poems and translations have appeared in Asymptote, Lana Turner, DIAGRAM, St. Petersburg Review, District Lit, and elsewhere. His chapbook, Small Wars, is forthcoming from Convulsive Editions. A graduate of the MFA program in creative writing at the University of Florida, he teaches at Grinnell College.
Nathalie Quintane
The French writer and poet Nathalie Quintane is at the forefront of a generation of contemporary writers whose works interrogate French capitalist, colonialist, and nationalist narratives. Jeanne Darc, from which these excerpts are drawn, can be understood as a gendered, critical analysis of the historical myth, an investigation of an iconic figure of French nationalism. Quintane is one of the major experimental poets of her generation now publishing prolifically in France. With Stéphane Bérard and Christophe Tarkos, she founded the journal RR in the 1990s, essentially a parody of a literary review. She publishes widely in poetry journals like Nioques and Java, and often gives lectures and performances in France and abroad.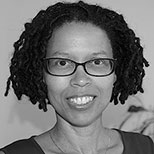 Evie Shockley
Evie Shockley's most recent book of poetry, the new black (Wesleyan), won the 2012 Hurston/Wright Legacy Award in Poetry. She is also the author of a half-red sea (Carolina Wren Press), two chapbooks, and a critical study, Renegade Poetics: Black Aesthetics and Formal Innovation in African American Poetry (Iowa). From 2007–2011, she co-edited the poetry journal jubilat; she now serves as creative writing editor for Feminist Studies. Recipient of the 2012 Holmes National Poetry Prize, Shockley is Associate Professor of English at Rutgers University-New Brunswick.
Lisa Russ Spaar
Lisa Russ Spaar is the author of many collections of poetry, including Glass Town (Red Hen Press, 1999), Blue Venus (Persea, 2004), Satin Cash (Persea, 2008), and most recently Vanitas, Rough (Persea, December 2012). She is the editor of Acquainted with the Night: Insomnia Poems and All that Mighty Heart: London Poems, and a collection of her essays, The Hide-and-Seek Muse: Annotations of Contemporary Poetry appeared from Drunken Boat Media in March 2013. Her awards include a Guggenheim Fellowship, a Rona Jaffe Award, the Carole Weinstein Poetry Prize, an All University Teaching Award, an Outstanding Faculty Award from the State Council of Higher Education for Virginia, and the Library of Virginia Award for Poetry. Her poems have appeared in the Best American Poetry series, Poetry, Boston Review, Blackbird, IMAGE, Paris Review, Ploughshares, Slate, Shenandoah, The Kenyon Review, Virginia Quarterly Review, and many other journals and quarterlies, and her commentaries and columns about poetry appear regularly or are forthcoming in The Chronicle of Higher Education, the Washington Post, the New York Times, the Los Angeles Review of Books, and elsewhere. She has been a master teacher at the Palm Beach Poetry Festival and the Vermont Studio Center, and she is Professor of English and Creative Writing at the University of Virginia.
C. Dale Young
Photo: Marion Ettlinger, 2006
A fellow of the Guggenheim Foundation and the Rockefeller Foundation, C. Dale Young practices medicine full-time. The author of four collections of poetry, including The Halo from Four Way Books, he is at work on a linked collection of stories — which includes "Desaparecido," as well as a story that will appear in Issue III of Waxwing. He lives in San Francisco.